MARLI RUSEN – CREATOR OF THE MIRROR METHOD
Marli's Story
Before creating The MIRROR Method, Marli Rusen was a successful employment and labor lawyer. During this time, Marli observed that many formal lawsuits and complaints could have been avoided had there been early, effective and informal conflict resolution. As a result, Marli now refers to formal investigations and adjudication as the "land of missed conversations".
Marli also noticed that many workplace leaders knew of existing concerns well before they became formal complaints. However, they often failed to intervene because they lacked proper training and skills on "what to do next".
Given what she observed, Marli realized that she could best support the resolution of stressful and damaging conflict through education and early conflict resolution. She "hung up her robes" and turned her litigation experience into "lessons learned" for others.
Marli's Experience
Marli Rusen brings a history of academic excellence and years of extensive experience as a labor, employment and human rights lawyer to her current work as a labor arbitrator, mediator/investigator and workplace educator and consultant.
Marli was awarded the Gold Medals in Law (1993, University of Victoria) and Psychology (1989, University of Winnipeg) for obtaining the highest aggregate grade point average in each area of study.
Following law school, Marli spent 20 years representing various parties (plaintiffs, defendants, employees and employers) in formal litigation and arbitration. Since 2015, Marli has worked exclusively as a workplace educator, neutral advisor and third-party adjudicator, conducting workplace scans, mediations, investigations and arbitrations.
Marli is an active member of the Law Society of BC.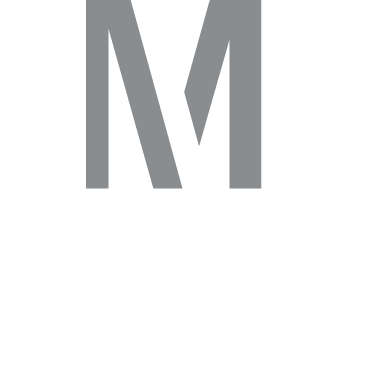 About The MIRROR Method
Marli's significant experience in resolving workplace disputes culminated in her creation of the popular MIRROR Method, a clear six-step process for leaders to follow to inquire into and resolve workplace disagreements, dysfunction and disrespect in a timely and defensible manner.
The MIRROR Method is based on fundamental principles of natural justice rooted in labor and administrative law. It outlines the necessary steps to apply to make and implement evidence-based decisions that are viewed as fair, timely and objective. It has proven to be highly effective in not only resolving conflict and correcting dysfunction, but also in building high-performance organizations rooted in trust and transparency.
The Origins of The MIRROR Method
During her time as a lawyer, Marli observed that many workplaces lacked respectful accountability. Some leaders held individuals accountable in a disrespectful and indefensible manner through personal bias, intimidation, discrimination and harassment. Other workplace leaders failed to hold anyone accountable at all, creating an unsafe, unproductive and disrespectful environment. Marli realized that workplace leaders required practical training on how to hold the right people accountable in the right way – respectfully and confidentially. This prompted her to create The MIRROR Method, a six-step review and decision-making process for leaders.
Why the term "MIRROR"?
A key component in "respectful accountability" is the ability to reflect in three critical ways. First, leaders need to reflect on their own behavior and communication when making and communicating decisions involving their teams. Second, leaders must pause to ensure they have an accurate reflection of what is going on before they take action or make decisions. Finally, leaders must clearly reflect back to those involved what they have decided – and why – to ensure everyone knows where they stand.
Image to the right: Marli with her late father, Judge Manly Rusen, who was a long-time lawyer and provincial court judge in Winnipeg, Manitoba. Taken shortly after the publication of Marli's first book, The MIRROR Method.
The Six Steps of The MIRROR Method
M – Monitor the Workplace
On an ongoing basis, leaders are expected to actively monitor the workplace for signs and symptoms of poor performance, communication, conflict and general dysfunction. Marli shows leaders how to do so in a respectful, consistent and transparent manner.
I – Inquire into Possible Issues
No two conflicts are the same and no "one-size-fits-all" approach will be effective in addressing workplace dysfunction. Leaders should conduct an initial "screening" of any concern or complaint to determine the best "next steps" to take. Marli shows leaders how to do this properly using her triage process.
R – Review Concerns Objectively
Prior to drawing any conclusions about alleged workplace dysfunction, leaders must conduct a timely, impartial and objective review. Marli outlines the necessary components of this process in the third step of The MIRROR Method.
R – Remedy the Issue Based on the Review
Following the review, leaders are expected to remedy workplace disputes and dysfunction by holding individuals accountable for their past behavior and helping them to avoid similar behavior in the future. Marli shows workplace leaders how to create an effective remedial plan, which includes aspects of both clear accountability and reasonable support.
O – Operationally Reflect and Restore Team Trust and Communication
It is critical for leaders to help restore trust and stability on their teams following any workplace investigation or review. In this step, Marli outlines various ways to help individuals and teams move forward in a constructive manner.
R – Revisit the Issue at a Later Date
In the final step of The MIRROR Method, Marli shows leaders how to proactively revisit past concerns and conflicts to ensure the dysfunctional behavior has not resurfaced. If it has, The MIRROR Method should be followed again.
What clients say about Marli Rusen and The MIRROR Method
You've put together an exceptional course here. Very valuable material packaged up and delivered in a way that makes it very easy to understand. I got a lot from it. My team members from all over Canada are enjoying it as it'll become mandatory for staff who join our organization at all levels.
Owen Court
Chief Operating Officer, Scarlet Security
As a frontline leader, with over 20 years of experience working through an ever-changing workplace, the MIRROR Method is a must have tool in the leader's toolbox. In order to keep and improve psychological safety it is important as a leader to limit team dysfunction and engage the workforce. The MIRROR Method is a must have - should have.
Bill Brown, SCMP
Bill Brown, SCMP
Having applied this process, I can attest that if you follow the steps in The MIRROR Method, you will achieve positive outcomes and culture shift in your work environments.
Sandra Merlo
Director, HR Operations
A great learning and teaching tool, "The Mirror Method" will definitely be a staple for those who lead in your organization.
Lori Rilkoff
Human Resources Consultant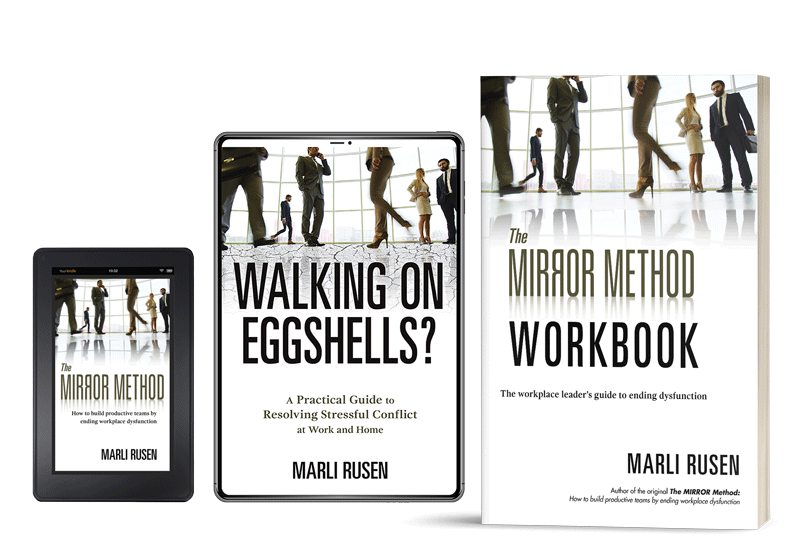 Supporting Resources Authored by Marli
Marli has authored and published three books on this topic, "The MIRROR Method: How to build productive teams by ending workplace dysfunction" and a companion workbook, "The MIRROR Method Workbook: The workplace leader's guide to ending dysfunction". Recently, Marli published a conflict resolution guide for both staff and leaders titled, "Walking on Eggshells? A Practical Guide to Resolving Stressful Conflict at Work and Home".
Order your copies today!