THE CRITICAL ROLE OF WORKPLACE LEADERS
ONLINE COURSE

In my leadership conflict resolution online course, workplace leaders will build on the information and skills they learned in the first course. This training contains entirely different content from the first course and is applicable to all leaders, from frontline supervisors (unionized and non-unionized) to executive teams.
order course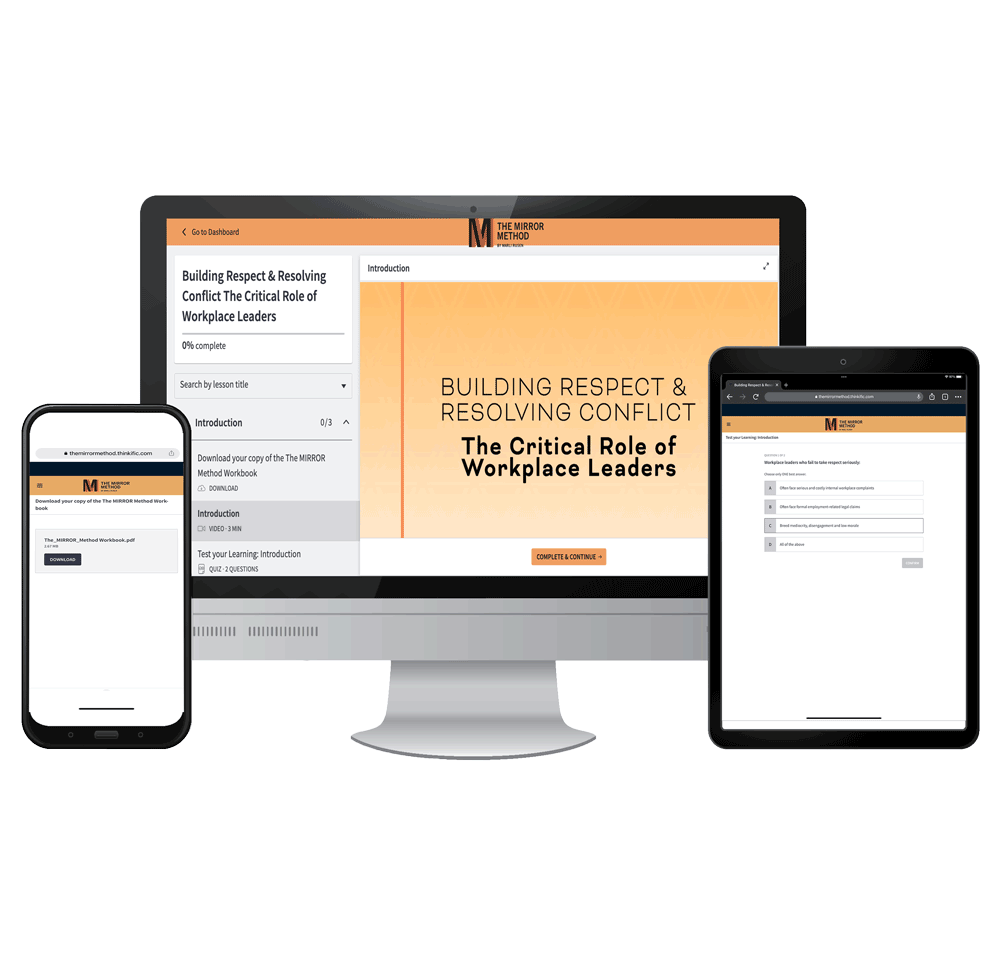 Become a leader who understands what it takes to resolve conflict and build a respectful workplace with the second course in my "Building Respect & Resolving Conflict" series.
Participants in this leadership conflict resolution online course will learn the following:
The legal and practical reasons to lead with respect
The 3 Ms of Respectful Leadership: Modeling Respectful Behavior, Monitoring for Disrespect and Mitigating Risk to the Organization
The requirements of Respectful Leadership: Respectful Conduct, Respectful Decision-Making and Respectful Accountability
A summary and explanation of my popular MIRROR Method, a six-step process that helps leaders make defensible and evidence-based decisions in the face of any and all workplace dysfunction, including concerns with a particular individual or issues with persistent interpersonal conflict on or between teams;
Through The MIRROR Method, participants will learn how to:

Respectfully monitor their teams for signs of discord and dysfunction
Inquire into apparent or reported concerns in an appropriate, timely and measured manner
Conduct fair and objective reviews into informal or formal complaints and concerns
Devise a measured plan to effectively resolve disagreements and remedy substantiated concerns
Restore team trust and communication following workplace reviews/investigations
Course run time: 11 videos, 1.5 hours of training
Additional material includes: The MIRROR Method Workbook
All of Marli's leadership courses are certified by the Chartered Professionals in Human Resources.


order course
Creating a high-performing and professional workplace requires more than just conflict resolution training and basic respectful workplace training. Respectful leadership training plays a crucial role in creating a respectful workplace by equipping leaders with the necessary skills and knowledge to foster a culture of respect and inclusion. These skills give leaders the tools to become influential team builders, change management specialists and strong decision-makers in their workplace. Giving constructive feedback and resolving workplace conflicts are other vital areas where leaders can benefit from this training. Risk management, talent management, performance management and employee engagement and development are also essential skills leaders need to develop in today's workforce.
Effective leadership is critical to setting the tone for respectful behavior and for promoting a safe and positive work environment. Leadership training can help leaders develop communication skills, emotional intelligence and conflict resolution strategies to address and prevent disrespectful behaviors such as harassment and discrimination. By investing in leadership training, organizations can ensure that their leaders are equipped to lead by example and promote a culture of respect that benefits all employees and contributes to the organization's overall success and productivity.
Learn about our introduction to conflict resolution course applicable to everyone:
Building Respect & Resolving Conflict Course: The Fundamentals for all.