The Mirror method for building healthy and productive workplaces
Marli Rusen knows the importance of respect in the workplace; she witnesses and remedies the damage caused by the absence of such respect. Marli has used her legal expertise to create the MIRROR Method, a six-step framework to build productive teams by addressing workplace dysfunction.
New Leadership Course!
We are excited to announce our second self-paced video course, "Building Respect and Resolving Conflict: The Critical Role of Workplace Leaders". In this self-paced 11-video online course, Marli incorporates her 20+ years in workplace conflict resolution, investigations and arbitrations to provide all supervisors, managers and leaders with practical and necessary steps to build a respectful workplace culture. This can only happen when leaders take responsibility for their own conduct and learn how to hold others accountable in a respectful and defensible manner.
In this course, leaders will learn why it's necessary – both legally and practically – to lead with respect. Marli will outline her "3 Ms of Respectful Leadership" (Modeling Respectful Behavior, Monitoring for Disrespect on their Team and Mitigating Risk to the Organization), and will show participants how to use her popular six-step MIRROR Method to make defensible and evidence-based decisions in the face of workplace disagreements and dysfunction.
Every organization deserves workplace leaders who know how to build and create a respectful workplace culture. Every workplace leader deserves an organization that actively supports them in learning these skills.
order course
learn more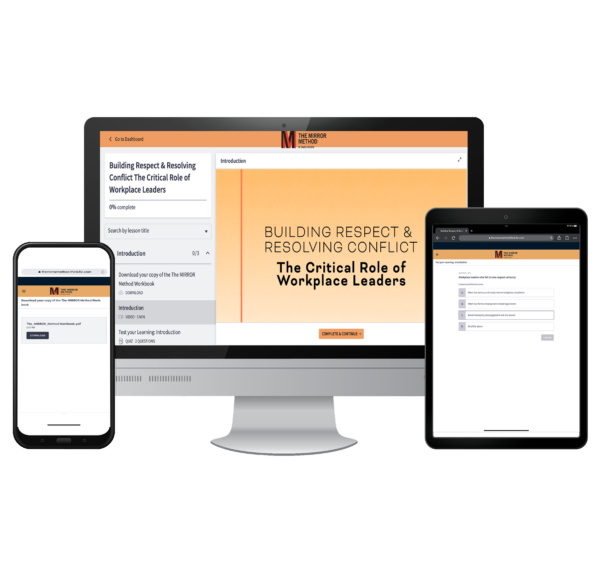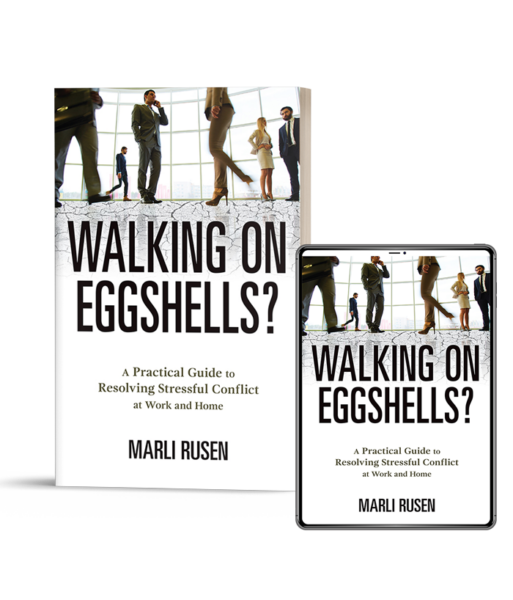 New Book Release! 
I am thrilled to announce the publication of my third book:
Walking on Eggshells? A Practical Guide to Resolving Stressful Conflict at Work and Home
The Guide reflects lessons I have both learned from and shared with employees, unions, workplace leaders and teams in my 25+ years in the "conflict business" – first as a lawyer and now as a workplace investigator, mediator and arbitrator.  
Everyone wants conflict to end, relationships to be restored and environments to be safe, stable and inclusive. Few of us know how to make this happen. And that is why I wrote this book. Click the link to learn how my new Guide helps in resolving conflict.  
Order today
Download Sample
My new conflict resolution Guide "Walking on Eggshells?" just received a great review by Jim Alkon and the US company BookTrib. See the attached link. I'd be happy to hear your thoughts on the Guide after you've read it!
BookTrib Review
Marli Rusen
Marli's experience as a Labor, employment and human-rights lawyer, mediator and arbitrator has given her a profound understanding of how day-to-day leadership, interpersonal dynamics and communication affects the overall health, focus and productivity of the workforce. This understanding led to the development of the MIRROR Method.
Marli has helped thousands of organizations – through her training, services and support – learn how to build respect and identify, communicate through and effectively resolve workplace dysfunction.
To maintain a respectful workplace, all individuals must be told of their right and responsibility to participate in a civil, professional and respectful environment.
Contact Us
Book Now
Respectful Workplace Training
Becoming a high performing, productive and professional workplace doesn't just happen. Organizations must train all employees, from senior leadership to front-line personnel, on how to practice inclusion, support diversity, communicate respectfully, and resolve workplace conflict in an effective and defensible manner.
Marli's training and consulting services all embody the MIRROR Method – a reflective and practical way in which to address and resolve workplace dysfunction. The MIRROR Method has given thousands of organizations the knowledge, tools and techniques necessary to be successful while fostering the wellbeing of everyone in the workplace.
Marli's popular training courses – for staff and leaders – are now available in two different formats: self-paced online training courses or workshops which can be remote (virtual) or in-person.
Individual Self-Paced Courses
Our online training courses are an excellent option to use for consistent and defensible education, onboarding and orientation regarding respectful workplaces. This format allows participants to complete the course independently using desktop and mobile devices connected to the internet, at their own pace and without interfering with scheduling and operational demands. Supplemental training materials are provided to further support learners in applying the course material to concerns that may arise.
Group Workshops
Workshops – delivered live remotely or in-person – are a great way to bring your team together to learn more about mutual respect, effective communication and early conflict resolution. Participants are able to engage and discuss with Marli their questions and concerns on these important topics. Marli can provide this comprehensive respectful workplace training through virtual platforms like Zoom or Microsoft Teams.
Order Courses
contact us
Marli Rusen's Services
Training and education are essential in building and maintaining a respectful and productive workplace. However, they are not enough. Organizations also need to conduct timely, fair and objective reviews into workplace complaints and concerns. 
Marli offers many different services to help organizations resolve workplace dysfunction. Her services as an investigator are often necessary where there is a formal complaint of harassment, discrimination or bullying.

Marli's services as a mediator or facilitator are commonly secured when the conflicts have not yet become formal complaints but require immediate attention and resolution. Marli also is retained when there are concerns about anonymous complaints, low engagement scores or high rates of turnover and absenteeism. Marli comes in – finds out the root cause – and helps leaders effect positive change. Finally, as a recognized member of the Arbitrators Association of British Columbia, Marli is retained to resolve formal grievances between Unions and Employers.
Learn more
contact us
What clients say about Marli Rusen and the MIRROR Method
You've put together an exceptional course here. Very valuable material packaged up and delivered in a way that makes it very easy to understand. I got a lot from it. My team members from all over Canada are enjoying it as it'll become mandatory for staff who join our organization at all levels.
Owen Court
Chief Operating Officer, Scarlet Security
The Mirror Method and Marli's training on respectful workplaces is applicable to employees across all levels of an organization. Through her seminars, she simply and clearly outlines the roles that everyone plays in creating a respectful, engaging, and positive workplace, while providing the fundamental legal context behind those obligations. A respectful workplace culture is something we need to co-create as an organization, constantly nurture and not take for granted. Engaging Marli to deliver the training was one way of delivering on our organization's commitment by providing all staff with the knowledge and tools to maintain the positive environment we all want to be a part of. Feedback I got from one leader in Victoria was: "One thing that definitely stuck with me though was when she said [paraphrased] . One of the most respectful things you can do in the workplace is show up and do your job. I thought that was pretty poignant and pretty spot on." From Nanaimo I heard: "It was one of he better trainings they had been to recently because it was succinct and relevant to everyone in that work group."
Carolina Ibarra
Chief Executive Officer, Pacifica Housing
Psychological safety is more important today in organizations now than ever. Workplaces have changed dramatically through globalization, remote work, hybrid work, and greater diversity. The competition in attracting, retaining and engaging others is critical to an organization's reputation, productivity and bottom line. The MIRROR Method is a gift to all employers and employees. Whether one is a seasoned or emerging new leader, identifying, and ending conflict or workplace dysfunction (demonstrated through Performance, Behaviour, Communication) is critical. Building Respect & Resolving Conflict is an affordable, easily accessible and effective must have training for for employers and employees alike.
Sheryl Brown, CPHR, HR Professional
Sheryl Brown, CPHR, HR Professional
As a frontline leader, with over 20 years of experience working through an ever-changing workplace, the MIRROR Method is a must have tool in the leader's toolbox. In order to keep and improve psychological safety it is important as a leader to limit team dysfunction and engage the workforce. The MIRROR Method is a must have - should have.
Bill Brown, SCMP
Bill Brown, SCMP
I have invited Marli a number of times to deliver her Building Effective Teams, Roles, Responsibilities, Tips and Tools for an Optimal Workplace session to supplement employees' learning regarding respectful workplace expectations. Marli is excellent at explaining the concepts and expectations in todays' workplaces in an applicable, meaningful way. Through her sharing of interesting and relevant stories and recent case law, she makes the learning experience engaging. Leaving the sessions, all participants are clear that we all have a role to play in addressing dysfunction and building the foundation of a respectful workplace.
Nadine Dillabaugh
Nadine Dillabaugh, Manager, Human Resources and Organizational Development, District of Central Saanich
Having applied this process, I can attest that if you follow the steps in The MIRROR Method, you will achieve positive outcomes and culture shift in your work environments.
Sandra Merlo
Director, HR Operations
This book is a must read for anyone in a leadership role. ... The Mirror Method is a fabulous tool for any leader to have in their toolkit.
Sherry Squires
A great learning and teaching tool, "The Mirror Method" will definitely be a staple for those who lead in your organization.
Lori Rilkoff
Human Resources Consultant
The MIRROR Method provides an easy-to-understand approach on how to identify and deal with dysfunctional workplaces and unacceptable individual performance and conduct.
Lori Rilkoff
Human Resources Consultant
"The Mirror Method" is a wonderful resource on navigating workplace dynamics for all HR professionals and Leadership teams. This book delivers insightful and practical advice which can be implemented in any organization.
Brigitte Runkel
CPHR, HR Advisor
Marli gives workplace leaders the practical tools, and step by step directions, to identify and deal with unacceptable workplace behaviours that can be applied in any workplace environment.
Sharon Kearney
Legal Counsel
For HR practitioners and managers alike, The MIRROR Method will become your "faithful guide" in identifying, dealing with, and resolving workplace conflict and dysfunction.
Sandra Merlo
The MIRROR method is an effective and practical process that will guide you to respectfully, fairly and objectively monitor, review, diagnose and remedy workplace dysfunction.
Anita Ferriss
Organizational & People Development Specialist, Camosun College (now retired)
The Mirror Method is a practical, accessible resource that provides a road map toward building a respectful workplace.
Anita Ferriss
Organizational & People Development Specialist, Camosun College (now retired)
The Mirror Method delivers practical information on the legal, productivity and reputational costs associated with dysfunction that is left unaddressed.
Shelley Kohlmann
Shelley Kohlmann and Associates HR Consulting
Besides the MIRROR method framework, the book is full of practical resources and tools.
Anita Ferriss
Organizational & People Development Specialist, Camosun College (now retired)
The Mirror Method is a wonderful resource on navigating workplace dynamics for all HR professionals and Leadership teams.
Brigitte Runkel
CPHR, HR Manager
The MIRROR Method is based on fundamental principles in labor and administrative law, and offers a close examination of what organizations must do to meet their obligations legally and ethically.
M – Monitor the Workplace
On an ongoing basis, leaders are expected to actively monitor the workplace for signs and symptoms of poor communication, conflict and general dysfunction. Marli shows leaders how to do so in a respectful, consistent and transparent manner.
I – Inquire into Possible Issues
No two environments are the same. Leaders should conduct an initial 'screening' of the alleged dynamics to determine what to do next. Marli shows leaders how to triage concerns that they observe – or which are brought to their attention – in order to determine how best to review and respond to them.
R – Review Concerns Objectively
Prior to arriving at any formal 'findings' of dysfunctional behavior, leaders must conduct a fair and objective review. Marli outlines the necessary components of this process as the third step of the MIRROR Method.
R – Remedy the Issue Based on the Review
Following the review, leaders are expected to remedy the situation by holding specific individuals accountable for their contribution to the dysfunctional environment, and by helping them avoid similar behavior in the future. Marli shows workplace leaders how to create an effective remedial plan, which includes aspects of both accountability and support.
O – Operationally Reflect, and Restore Team Trust and Communication
In addition to addressing 'individual' dysfunction, leaders should address any recurring cultural or systemic issues that are uncovered by the review. They also should consider whether their team – or a portion of it – needs a process of reconciliation, forgiveness (where appropriate) and closure following workplace investigations. Marli shows leaders how to detect and address systemic issues and assists teams to move forward following departmental 'trauma and drama' from unanticipated or long-awaited departures, significant workplace change or formal investigations.
R – Revisit the Issue at a Later Date
Leaders should revisit situations to ensure their remedial plans have successfully addressed the dysfunctional behavior or circumstances. If they haven't, the remedies themselves need to be revisited and the MIRROR Method should be followed again.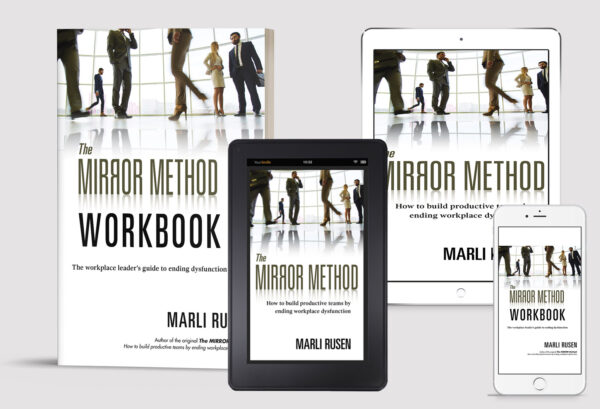 The MIRROR Method Book
Marli has transformed her six-step framework into the MIRROR Method Book and Workbook to give workplace leaders the tools needed to build a healthy, respectful and productive workplace. The MIRROR Method Book clearly outlines why a respectful workplace is necessary. The Book – and the Workbook – show leaders how to build and maintain respect through a clear summary of the six steps along with supporting forms, checklists, and critical Q&As. Together, these tools support organizations in diagnosing and resolving workplace conflict and dysfunction in a timely and appropriate manner. 
The MIRROR Method book and Workbook come in either paperback or mobile devices like Kindle, Kobe, Barnes & Noble, IOS or Android.
Buy Book
Buy workbook
Walking On Eggshells?
In my Guide, I will explain how to:
Quickly identify when you've been triggered so that you "step away" from the situation as soon as possible.
Give yourself space to recharge.
Better understand the most common types of disrespect and dysfunction (task-based conflict and relational conflict) to more easily identify and accurately describe what has caused your concern.
Properly set up a MIRROR conversation, rooted in "respectful reflection", to communicate your concerns to others.
Manage your stress when you have been "invited" to a MIRROR conversation because of apparent concerns with your behavior or communication.
Respectfully respond to accusations about you, even (and especially) when you disagree with how you have been characterized.
Respectfully speak so that others can hear what you have to say.
Respectfully listen so that others feel heard when speaking.
Explore practical solutions for the future without having to agree on the past.
Deal with stressful dynamics that arise during these conversations, such as anger, stonewalling, defensiveness and deflection.
Involve third parties to help resolve your situation when you aren't able to do so on your own.
Order your copy today to stop walking on eggshells and build healthier and more peaceful relationships at work and home.
Download a complimentary sample from my Guide to see what I mean! 
Order Today
Download sample
To succeed, you need to build respectful, productive and dynamic workplaces.
High-performance organizations grow faster, have lower absenteeism, better morale and superior profitability.
However, becoming a high-performance organization doesn't just happen.
You must train your employees, from senior management to front-line personnel, on how to embrace diversity, communicate clearly, and effectively resolve workplace dysfunction.
You need to do more than 'manage' conflict in your workplace.
You must teach leaders to lead in a way that respects and empowers their teams. Together, leaders and their teams must learn how to build strong team dynamics by committing to a culture of respect, trust and transparency.