Marli is offering her popular respectful workplace training online. Learn more.
online training
Ready to Make a Difference?
The world of work is going through unprecedented change.
To succeed, you need to build respectful, productive and dynamic workplaces.
High-performance organizations grow faster, have lower absenteeism, better morale and superior profitability.
However, becoming a high-performance organization doesn't just happen.
You must train your employees, from senior management to front-line personnel, on how to embrace diversity, communicate clearly, and effectively resolve workplace dysfunction.
You need to do more than "manage" conflict in your workplace.
You must teach leaders to lead in a way that respects and empowers their teams. Together, leaders and their teams must learn how to build strong team dynamics by committing to a culture of respect, trust and transparency.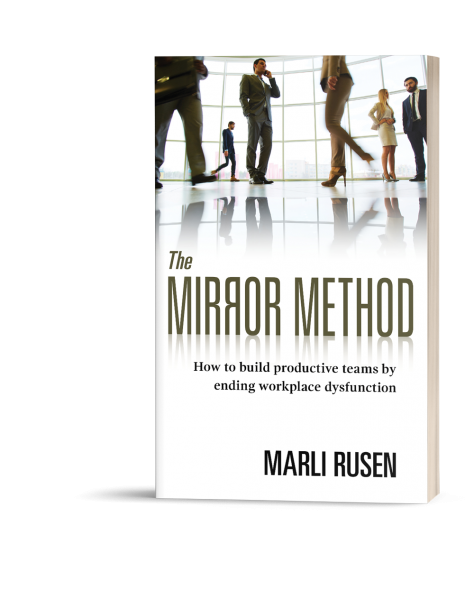 The MIRROR Method
To help respond to the many challenges and opportunities facing organizations today, Marli Rusen developed the MIRROR Method – a straightforward and practical six-step framework that helps leaders build productive, respectful and inclusive work environments.
Marli's training and consulting services all embody the MIRROR Method – giving thousands of organizations the knowledge, tools and techniques to be successful, while fostering the wellbeing of everyone who works there.
Learn more
Get Book
Online Training Courses
Mari Rusen now offers an online training course to promote respect in the workplace. Designed for employees and managers, Building Respect and Resolving conflict features the MIRROR Method, Marli's innovative framework for correcting workplace dysfunction and building high performing teams.
Video-based, self-paced and highly engaging, this training is easily accessible on desktop and mobile devices connected to the internet. Supplemental training materials help learners apply the course material in their workplaces.
Learn More
Order Course
Remote Workshops
Nowadays, respectful workplaces are not just a "best practice" – they are legally required. Employers are expected to train their leaders and staff on how to build and create respectful environments and how to resolve conflicts in a constructive manner, one free from harassment, bullying or discrimination. In order to support you in meeting these important objectives, Marli can provide your organization with comprehensive respectful workplace training through virtual platforms like Zoom or Microsoft Teams – at any time.
learn more
inquire now