Let Me Help You Transform Your Organization
Labour, employment and human-rights lawyer, mediator, arbitrator, author, speaker and organizational consultant, Marli has transformed her in-depth knowledge of the law and workplace dynamics into a revolutionary approach that helps organizations create healthy and productive environments.
Why I Do This
I've seen first hand, the damage and pain that's inflicted by workplace dysfunction, conflict and poor communication. I've also witnessed the many lost opportunities of not creating healthy, dynamic and empowered teams. I do what I do because I believe that everyone deserves the opportunity to reach their potential in an atmosphere of trust and respect.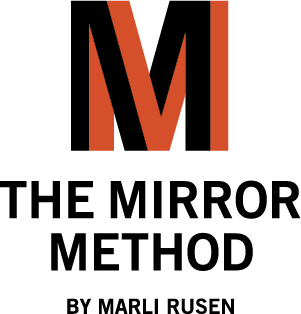 How I Help Clients
Regardless of how I serve my clients, from workshops and coaching to investigations, the way I truly help them is through the MIRROR Method. Organizations need the training and tools in the MIRROR Method to communicate better and resolve conflict earlier. This will help both individuals and teams do better and grow stronger. Modern, effective, and dynamic organizations need the MIRROR Method.
Who Marli Helps
From senior management and organizational leaders to staff and front-line personnel, Marli has trained thousands on the principles of workplace respect and communication embodied in the MIRROR Method. Employees within health care, government, education, the public sector, and private industry have learned how to resolve workplace dysfunction so they may focus their efforts and attention on building collaborative, high-performing teams.   
What Clients Say About Marli Rusen and the MIRROR Method
The seminar 'How to Manage Conflict Out of the Workplace' was the most powerful seminar that I have attended. Marli facilitates the information with powerful, real-life examples, vast experience in the field along with being engaging, witty and empowering. I would recommend others to attend one of Marli's sessions.
Gregg Scott
Branch Manager, Coastal Community Credit Union
When surveyed, over 90% of staff agreed or strongly agreed that the material presented was relevant and that they felt confident applying what they learned in the workplace.
Colleen McFadden

Sr. Director, Human Resources & Operations, BC Nurses' Union
These workshops are always extremely well received. In all of these situations, the Management team has asked that she return for follow-up presentations.
E. Anne Laurie
Ministry of Children and Family Development and Labour Relations Specialist, Interior Health Authority (now retired)
See Marli's Availability
Interested in booking Marli's services, such as workshops, coaching or keynote speaking? Check Marli Rusen's upcoming schedule/availability to conduct arbitrations, mediations, training and investigations/audits.
View Calendar