Resources > Blog > A "Friendly Reminder" on Anti-Bullying Day: Let's Sweat the Small Stuff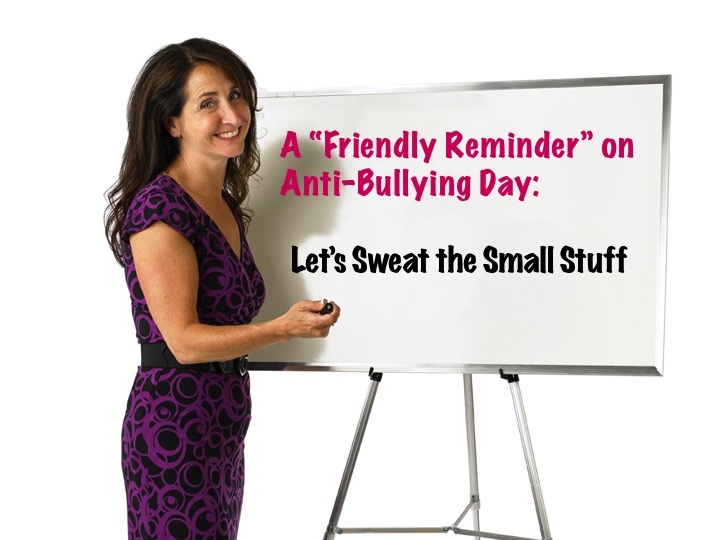 Today, many organizations are hosting events and hanging banners to recognize and "honour" Anti-Bullying Day.
As someone who works passionately to build respectful workplaces, I applaud the efforts being made to bring awareness to the destructive and inexcusable behaviours in which many individuals – at all levels of organizations – are currently engaged.
Nowadays, it appears that certain individuals will repeatedly exclude, shun, belittle and shame others, based solely on their differing political beliefs, cultural backgrounds, religions, work styles, personalities, lifestyles, incomes, educational backgrounds and otherwise.
They do this anywhere and any way they can, including in person, on texts/emails, through social media — wherever they find an avenue (and often an audience).
In order for workplaces to become truly healthy and productive, leaders need to expand the focus from a "one-day session on awareness" to a "year-round commitment to action".
As part of this "transition", it is important to know the following:
It's often not Bullying!
Bullying represents only the most severe form of unacceptable behaviours in the workplace. Many times, the disruptive behaviours and interactions that cause the most day-to-day harm, damage and loss of productivity fall outside the very rigid and narrow definitions of bullying/harassment contained within workplace policies and legislation.
Dismissing other's ideas, talking down to them, isolating them professionally and socially, interrupting them, mocking them…. This persistent incivility and rudeness is what causes many individuals to leave workplaces; others stay, but only because they have to (which results in significant issues with low morale and disengagement).
Instead of asking whether a particular incident or pattern of behaviour constitutes "bullying" as defined by a workplace policy, ask whether – practically speaking – that behaviour is respectful, constructive and reflective of the type of team you want. Ask whether that behaviour is helping your team "function" and grow.
If it isn't, then….
Move from Awareness to Action
In order for teams to become genuinely and consistently respectful, individuals need to be held accountable for their unacceptable, dysfunctional and disrespectful behaviour in the workplace. Leaders, bystanders and others need to stop the dysfunction at "disrespect" before it turns into bullying.
Too many workplaces focus their efforts on bringing awareness to this issue. And while awareness is a critical first step, it is ONLY the first step. If organizations want individuals to believe and buy into their anti-bullying messages and overall "commitments" to building respectful workplaces, then they must act – and be seen to act – when these inappropriate behaviours take place.
We must "walk the talk" of respect — and move from hanging banners on Anti-Bullying Day to banning bullying and disrespect all year round.
Transform the awareness of today – Anti-Bullying Day – into accountability all year – and authentic respect will flourish.