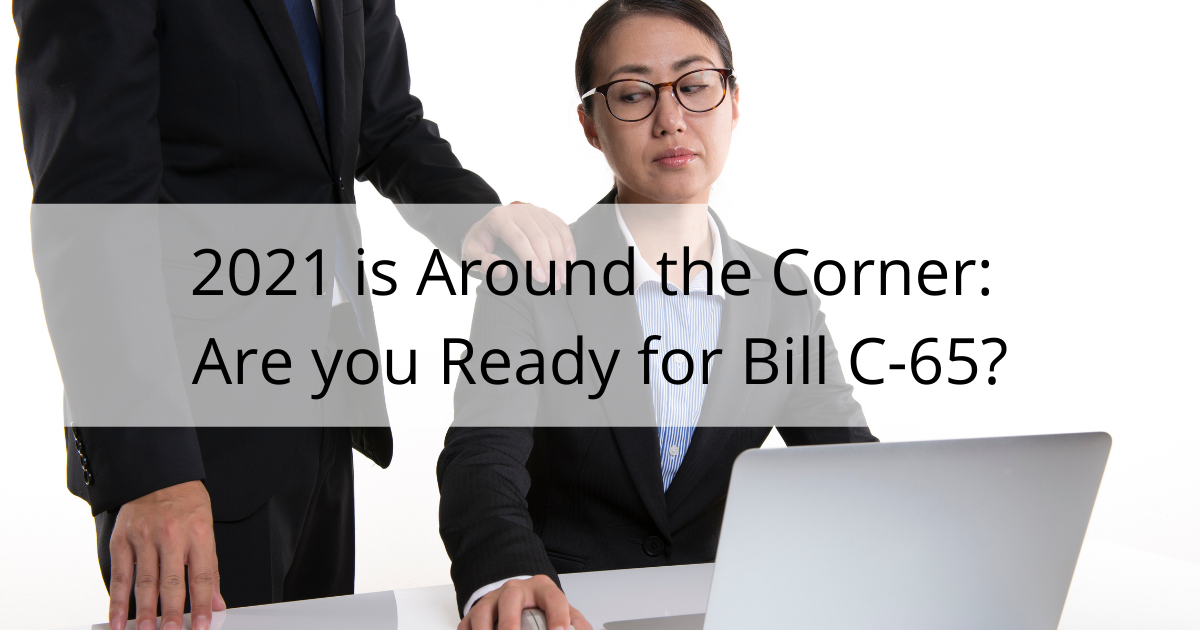 In January 2021, Bill C-65 will come into force, expanding the Canada Labour Code to include specific laws against harassment. This legislation mandates employers to create and maintain a harassment-free workplace through policy development and proactive training of staff and leaders alike.
Key Take-Aways
Having worked as a workplace lawyer, arbitrator and harassment investigator for over 20 years, and having extensive experience with similar legislation that has been in place in British Columbia for close to 10 years, I see the most critical aspects of the upcoming legislation to be as follows:
The definition of harassment and violence means: any action, conduct or comment, including of a sexual nature, that can reasonably be expected to cause offence, humiliation or other physical or psychological injury or illness to an employee, including any prescribed action, conduct or comment.
The focus on physical and psychological illness is broader than other laws that have focused exclusively on mental illness and psychological injury. I wholly support this expansion. In my experience, workplace harassment often causes or contributes to many physical ailments, such as hypertension, cardiac disease and gastrointestinal disorders. There is no reason to focus exclusively on psychological health when many other aspects of health are undermined through a toxic workplace relationship. Any personal damage that is reasonably linked to the unreasonable actions of others is appropriately included in this legislation.
On a separate note, this definition properly incorporates the objective "reasonable person" standard into the analysis. It is not sufficient for someone to simply "feel offended" by others or, conversely, to deny wrongdoing on the basis that they didn't "feel" they were being offensive. Rather, all interactions, communication and behaviours need to be examined objectively by the investigator to determine what most likely was said and done. They then need to examine that behaviour to determine whether those involved either knew they were being offensive or reasonably should have known that their comments or conduct would be viewed as offensive based on all the circumstances.
The Bill requires employers to properly investigate, record and report harassment complaints, using an investigator who is properly trained in this field. Complaints may be made verbally or in writing. No longer may employers avoid their responsibility to address harassment on the basis that someone refuses to put concerns in writing.
The Bill requires employers to take measures to prevent harassment, not merely respond to it.  This includes mandatory training for both staff and leaders on their rights and responsibilities to prevent unlawful workplace conduct.
In my experience, this requirement for training is not simply about educating staff on the new legislation. It incorporates whatever training is necessary to prevent harassment. The only way to prevent harassment is to proactively build a respectful workplace. Why is this? Harassment is largely an accumulation of persistently disrespectful comments and conduct. If your organization commits to addressing disrespect as soon as it arises, you will be successful in preventing harassment.
If the key to preventing harassment is the creation of a respectful workplace, how does that happen? To build a culture of respect, it is critical to provide three types of workplace training:
Training to all staff and leaders on how to act and communicate in a respectful manner;
Training to all staff and leaders on how to resolve day-to-day conflict in an early, informal and transparent manner; and
Training to leaders at all levels on how to properly hold themselves and others accountable (including customers, clients, contractors and staff) when they have behaved or communicated in a disrespectful manner.
First Things First
Federally regulated employers (like many provincially regulated ones) must now prevent harassment by building a respectful workplace. There is no need to panic about this – but it is critical that you become knowledgeable and prepared on the evolving rights and responsibilities of those involved.
Order your copy of "Walking On Eggshells?"
LEARN MORE ABOUT: