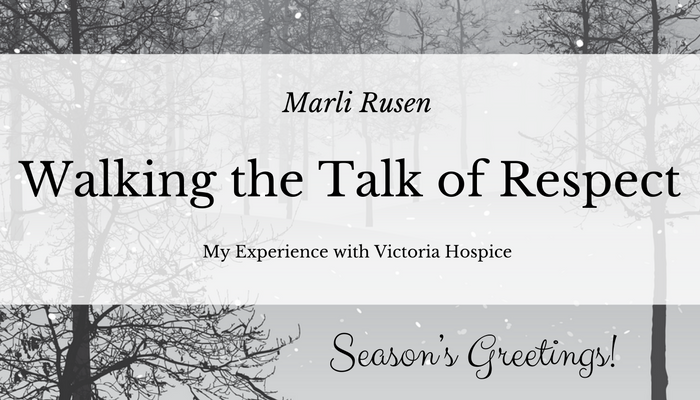 Walking the Talk of Respect – My Experience with Victoria Hospice
As many of you know, I have been involved in the legal and organizational aspects of health care for many years; first as counsel in medical malpractice litigation, and then as counsel in employment and labour relations matters. Currently, I spend time in hospitals and other health care facilities resolving issues between individuals and building (and rebuilding) respectful relationships amongst teams.
Many of you may not know that every second Saturday morning, I don my royal blue vest and spend time as a clinical volunteer at Victoria Hospice, providing various types of support to patients and their families. In my relative anonymity, I am given the privilege (and that's exactly what it is) of watching the Victoria Hospice health care team in action.
For me, Victoria Hospice exemplifies what it means to be a truly respectful workplace. Physicians, nurses (RNs and LPNs), clinical support teams, housekeeping, food services and other staff and the many volunteers work together as one highly functioning team, with a unified focus on ensuring that patients and their families "come first". I have never seen or felt any "us versus them-ing" at Victoria Hospice; to the contrary, genuine appreciation is voiced to everyone for their unique contribution to the overall environment and patient experience.
Often, we are told by nursing staff and others how grateful they are for our presence on the unit. Truth be told, I feel immense gratitude to be able to work with Victoria Hospice and observe these amazing individuals do such incredible work.
On a day-to-day basis, I advocate for the building of respectful workplace environments and the cultivation of simple kindness in the workplace. Victoria Hospice is proof to me that this "goal" can become a reality.
As my holiday gift to all of you, I have made a monetary donation to Victoria Hospice to recognize their gift to so many others.
All the best in 2017.
– Marli Rusen
To learn more about Victoria Hospice visit: https://www.victoriahospice.org