Self-Paced Respectful Workplace Courses
Respectful workplace training is legally required in numerous jurisdictions and practically expected by employees in many workplaces around the globe. Marli has transformed her extensive legal knowledge and 25+ years in resolving informal and formal conflict into a series of online self-paced respectful workplace courses to help staff, leaders and organizations address disrespect, discrimination, bullying and harassment in the workplace.
Online Courses to Resolve Conflict and Create a Respectful Workplace
Building Respect and
Resolving Conflict:
The Fundamentals for All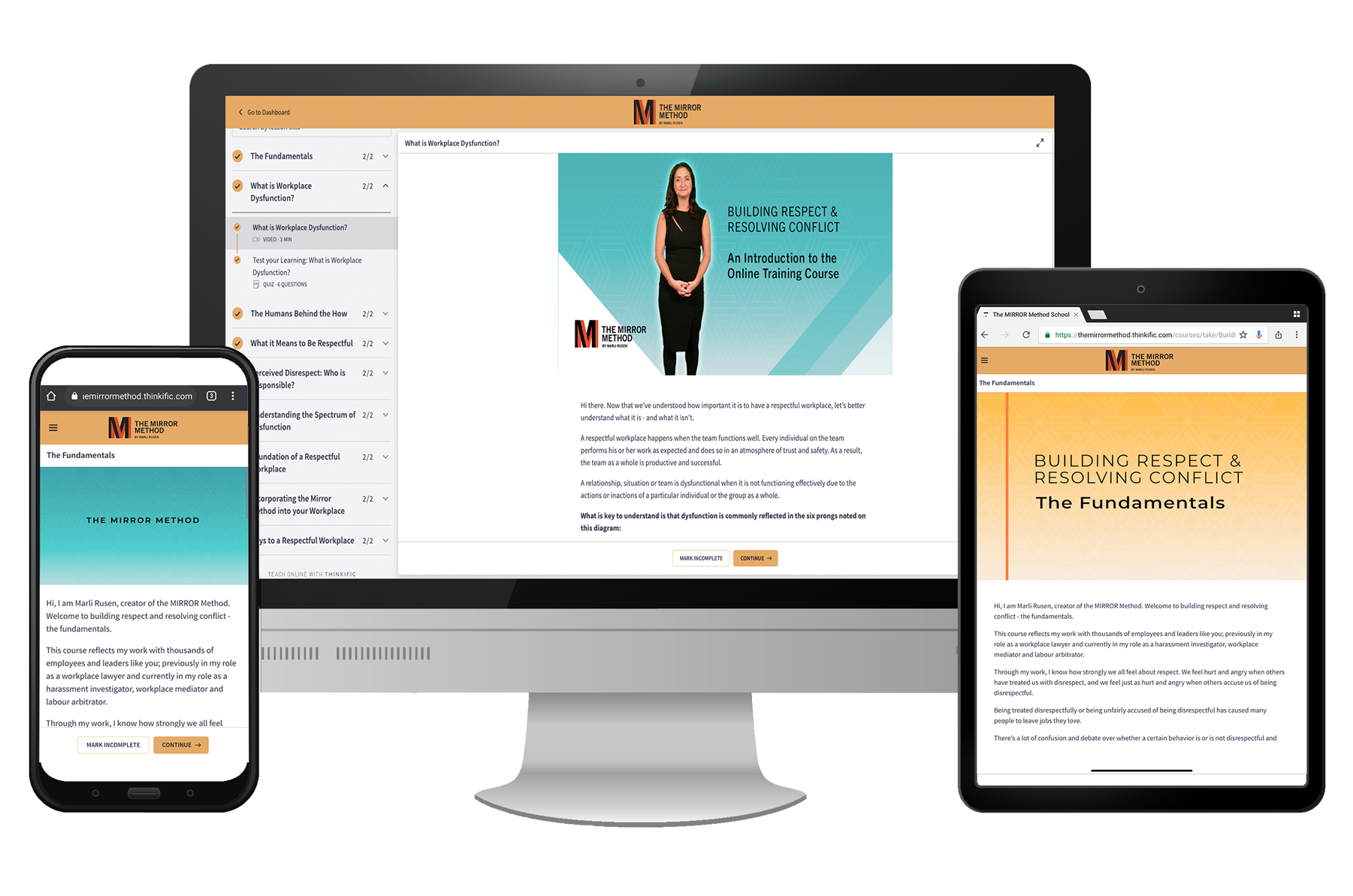 This is the first course in my "Building Respect and Resolving Conflict" series, designed for everyone in your organization including staff, leaders, volunteers, elected officials and others.
Participants will learn:
The legal and practical reasons to be respectful
How employees, supervisors and others must help build a respectful workplace
The differences between workplace dysfunction, conflict and harassment
What it means to be respectful; which includes doing your work effectively and being a respectful and reliable team player
A team-based approach to conflict: understanding the roles and responsibilities of complainants, respondents, bystanders and workplace leaders
Understanding the Spectrum of Dysfunction: the difference between mild dysfunction (having a bad day) and repetitive, unrelenting and/or serious dysfunction (having a bad life)
How to put it all together and resolve conflicts early through a respectful 15-minute MIRROR Conversation
Completing this training provides participants with more than simply "knowledge" about respect; it teaches the practical skills and attitudes necessary for a sustainable and respectful work environment.
Run time: 9 videos, 1 hour of training
Additional material includes:
Walking on Eggshells? A Practical Guide to Resolving Stressful Conflict at Work and Home
Order Course
Contact us
Building Respect and
Resolving Conflict:
The Critical Role of
Workplace Leaders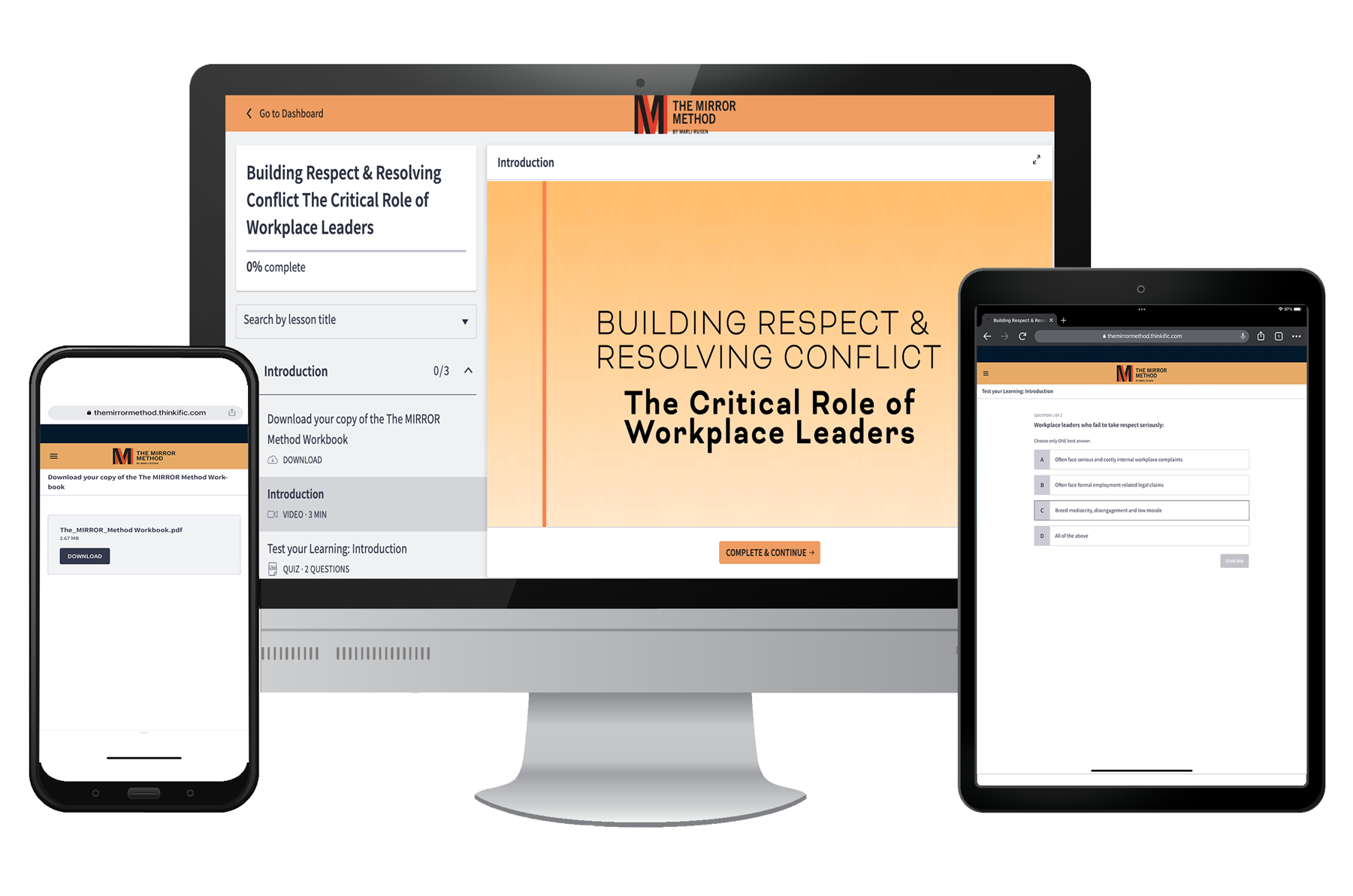 In my leadership course, workplace leaders will build on the information and skills they learned in the first course. This training contains entirely different content from the first course and is applicable to all leaders, from frontline supervisors (unionized and non-unionized) to executive teams.
Participants will learn:
The legal and practical reasons to lead with respect

The 3 Ms of Respectful Leadership: Modeling Respectful Behavior, Monitoring for Disrespect and Mitigating Risk to the Organization

The

r

equirements of Respectful Leadership: Respectful Conduct, Respectful Decision-Making and Respectful Accountability

A summary and explanation of my popular MIRROR Method, a six-step process that helps leaders make defensible and evidence-based decisions in the face of any and all workplace dysfunction, including concerns with a particular individual or issues with persistent interpersonal conflict on or between teams;

Through the MIRROR Method, participants will learn how to:

Respectfully monitor their teams for signs of discord and dysfunction
Inquire into apparent or reported concerns in an appropriate, timely and measured manner
Conduct fair and objective reviews into informal or formal complaints and concerns
Devise a measured plan to effectively resolve disagreements and remedy substantiated concerns
Restore team trust and communication following workplace reviews/investigations
Run time: 11 videos, 1.5 hours of training
Additional material includes:
The MIRROR Method Workbook
Order Course
Contact us
What clients say about our online training courses
You've put together an exceptional course here. Very valuable material packaged up and delivered in a way that makes it very easy to understand. I got a lot from it. My team members from all over Canada are enjoying it as it'll become mandatory for staff who join our organization at all levels.
Owen Court
Chief Operating Officer, Scarlet Security
Psychological safety is more important today in organizations now than ever. Workplaces have changed dramatically through globalization, remote work, hybrid work, and greater diversity. The competition in attracting, retaining and engaging others is critical to an organization's reputation, productivity and bottom line. The MIRROR Method is a gift to all employers and employees. Whether one is a seasoned or emerging new leader, identifying, and ending conflict or workplace dysfunction (demonstrated through Performance, Behaviour, Communication) is critical. Building Respect & Resolving Conflict is an affordable, easily accessible and effective must have training for for employers and employees alike.
Sheryl Brown, CPHR, HR Professional
Sheryl Brown, CPHR, HR Professional
As a frontline leader, with over 20 years of experience working through an ever-changing workplace, the MIRROR Method is a must have tool in the leader's toolbox. In order to keep and improve psychological safety it is important as a leader to limit team dysfunction and engage the workforce. The MIRROR Method is a must have - should have.
Bill Brown, SCMP
Bill Brown, SCMP
Employees are an employer's most valued asset. It's not just new leaders who experience discomfort and uncertainty when dealing with conflict or dysfunction in the workplace. If employers want to surround themselves with talent and keep them there, then even the most seasoned managers would benefit from learning Marli's MIRROR Method. It's impressive, easy-to-follow and effective, benefitting employees and employers alike.
Sheila Godwin
Sheila Godwin, Senior Labour Relations Specialist
Our organization is participating in Ms. Rusen's online training "Building Respect and Resolving Conflict" and offering it to all employees. I, personally, have undertaken this training and found it user-friendly, informative, engaging and full of substantive content. Ms. Rusen does an excellent job communicating on this very relevant and important topic.
Colleen McFadden
Colleen McFadden CPHR, EMBA, Chief Operating Officer, BC Nurses' Union - Retired
Online Training Course Features and Benefits
Engaging, Instructional Design
Nine to eleven, professionally developed videos deliver 45 minutes to 1.50 hours of engaging course material.
Intuitive Learning Management System
Easy to navigate platform that makes learning efficient and enjoyable.
CPHR Certified Courses for Leaders
All of Marli's leadership courses are certified by the Chartered Professionals in Human Resources.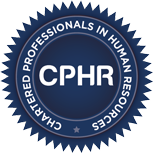 Desktop, Android and iOS Compatible
Readily accessible and optimized for any device connected to the internet.
Self-Paced, Easy-to-Follow Curriculum
Participants learn at their own pace with course material and quizzes grouped into nine to eleven lessons.
Additional Support Material
Each participant will receive additional written resources and worksheets to help them implement the program's key concepts in their workplace.
Leadership course participants receive a complimentary PDF copy of Marli's popular MIRROR Method Workbook.
Mandatory Testing to Demonstrate Knowledge
Each participant must achieve a score of 80% or better on each of the nine quizzes. Successful course participants receive a certificate of completion.
The Benefits of an Inclusive, Respectful Workplace
Respectful workplaces are more productive, rewarding, and enjoyable. When there is mutual respect, employees work well together and build upon each other's strengths and abilities.
The benefits of safe, inclusive and respectful workplaces are extensive. Here are a few of the reasons to embrace respectful workplace training:
Stronger culture and improved corporate reputation
Increased productivity and profitability
Improved employee attraction and retention
Reduced illness and absenteeism
Improved team communication and morale
The Damage and Risk Created by Workplace Conflict
Organizations that tolerate disrespect experience higher levels of turnover, conflict and grievances; and lower levels of engagement, attendance and productivity. If left unchecked, bullying, abuse of power, harassment and discrimination can turn a healthy workplace into a toxic situation.
This is not merely unfortunate – it is unlawful. Human rights, employment and occupational health and safety laws in many jurisdictions, in North America and beyond, require employers to develop respectful workplace policies and provide respectful workplace and human rights training. 
Each of us has the right to work in an environment that is respectful. We also have an equal responsibility to treat others respectfully. No exceptions. No excuses.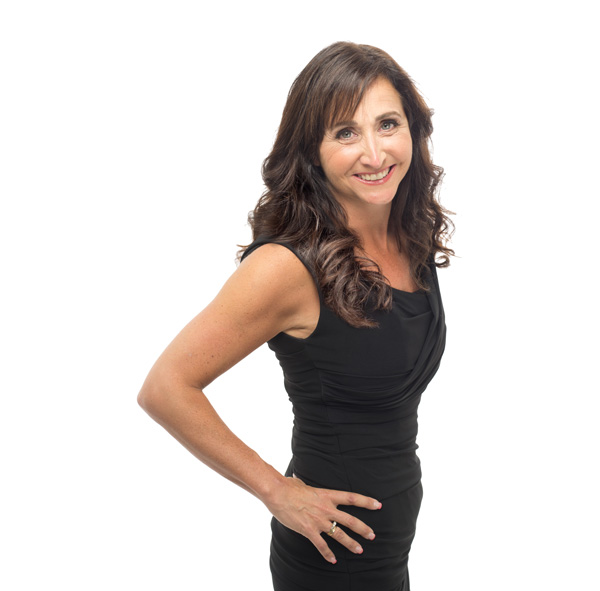 Marli Rusen, Course Creator and Developer of the Mirror Method
Labour, employment and human-rights lawyer, mediator, arbitrator, author, speaker and organizational consultant, Marli Rusen, will help your organization address workplace dysfunction and create high performing teams.
All of Marli's services and training incorporate the MIRROR Method, a practical six-step framework she outlines in her books and workbook. The MIRROR Method is a practical, accessible resource that offers a road map for leaders and front-line employees toward building a respectful workplace. 
If you have question's about Marli's online training, please see our list of frequently asked questions.
A few of the many organizations that Marli has worked with in embracing cultivating a respectful workplace culture: